Penghargaan merupakan salah satu wujud bentuk apresisasi dan motivasi karyawan bagi perusahaan. Penghargaan diharapkan bisa membuat adanya kerja keras yang dibarengi dengan integritas yang tinggi untuk perusahaan. Penghargaan bisa datang dari berbagai lini perusahaan dan dalam berbagai bentuk seperti hadiah, bonus atau yang lainnya, yang pasti biasanya penghargaan akan diberikan ketika karyawan berhasil memenuhi atau melebihi target serta sukses meraih suatu pencapaian yang baik bagi kemajuan perusahaan.
Agricon sebagai perusahaan dengan jumlah karyawan ± 500 orang tentunya selalu berupaya untuk menghargai setiap usaha dan kerja keras yang dilakukan karyawan untuk kemajuan perusahaan. Pada tanggal 18 Januari 2022, Agricon Indonesia (ACI) sebagai salah satu unit bisnis Agricon, mengadakan "Awarding Performance Agricon Indonesia 2021". Night of The Stars dipilih sebagai tagline dalam berlangsungnya acara karena Agricon percaya bahwa kehadiran karyawan ACI dari berbagai daerah inilah yang menjadikan bintang bagi bersinarnya Agricon Indonesia di kancah pertanian. Awarding ini merupakan salah satu agenda dari National Meeting Agricon Indonesia yang dilakukan setiap tahunnya. Adapun penghargaan yang diberikan pada kesempatan tersebut diantaranya:
1. The Best Sales Excecutive (SE) 2021
The Best Sales ACI 2021
The Best Demand Creation ACI 2021
The Best Finance Administration 2021
2. The Best Regional Sales Manager (RSM) 2021
The Best Sales ACI 2021
The Best Demand Creation ACI 2021
The Best Finance Administration 2021
3. The Best Region 2021
Penghargaan yang diberikan Agricon kepada karyawannya juga bukan hal yang biasa, selain piagam penghargaan dengan lukisan karakter dari masing-masing pemenang, Agricon juga memberikan sejumlah logam mulia sebagai hadiah kepada masing-masing peraih penghargaan.
"Semoga dengan adanya Awarding ini semangat terus tetap terjaga untuk Agricon Indonesia." Demikian yang disampaikan Sariun sebagai National Sales Manager Agricon Indonesia.
Tentang Agricon
Didirikan di Bogor pada tahun 1969, PT Agriculture Construction (Agricon) berkembang menjadi formulator pestisida nasional yang memperluas portofolio bisnisnya menjadi agrokimia (PT Asia Gala Kimia), penyedia greenhouse & sistem irigasi (PT Agricon Sentra Agribisnis Indonesia), hingga distributor produk pendukung pertanian (PT Panca Agro Niaga Lestari). Pada tanggal 1 Januari 2016, PT Agricon secara resmi bertransformasi sebagai perusahaan holding dan menyerahkan distribusi agrokimia ke PT Agricon Indonesia (ACI).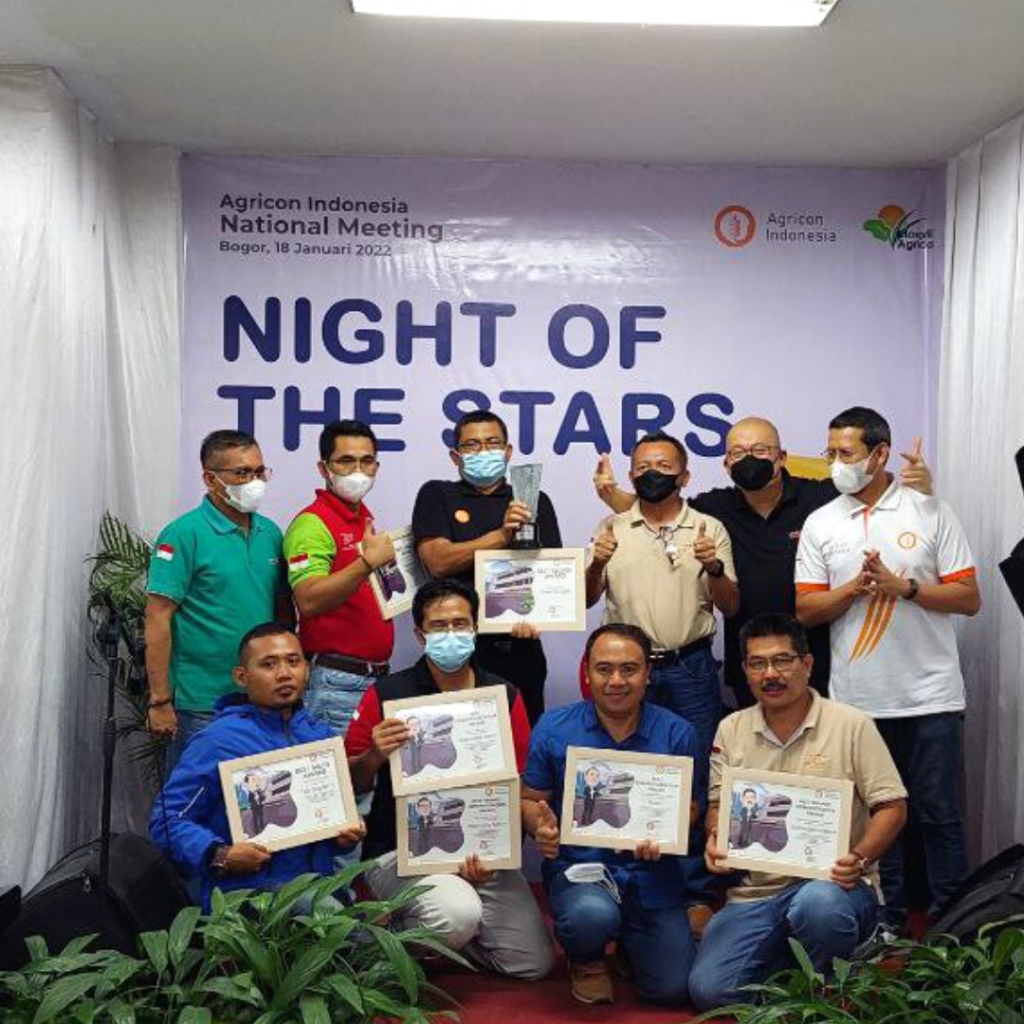 Foto bersama peraih penghargaan dalam acara "Awarding Agricon Indonesia 2021" (18/1)
Pemberian Karikatur Lukisan dan Sejumlah logam mulia kepada pemenang (18/1)